Remote Support
Log into your customer's computer remotely, from an Internet-enabled computer to fix any Problem, PC Related Problems, IPPBX Checking, Telephone system Reprogramming, IVR Reconfiguration or provide training, etc….
Firewall friendly and secure, Remote Access Helpdesk is a cost-effective customer service solution that saves time and leads to improved productivity.
Download CS2.exe
Download CS3.exe
Download Mac Support
If you need a remote helpdesk support, please do step by step as following:
Step 1: Please download cs2.exe or cs3.exe
Step 2: Click cs2.exe or cs3.exe to start the program.
Step 3: Please Call 852- 3900 1989 and tell your Customer Code to Matrix Helpdesk Engineer.
Step 4: After verified (cs2.exe), Matrix Helpdesk Engineer will ask you the "Your ID" and "Your Password". Then we are approved to remote control your PC and start helping you.
Step 4: After verified (cs3.exe) , Matrix Helpdesk Engineer will assign a (Support Server) for your access.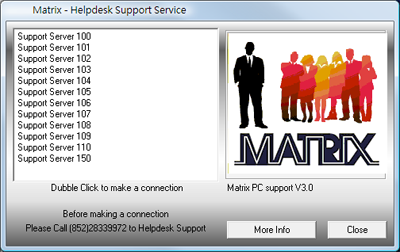 General Line : +852 39001900
Sales Hotline : +852 39001988
Support Hotline : +852 39001989
Fax : +852 39001999
Support Email:
support@hk-matrix.com
Web:
www.hk-matrix.com
Web:
www.28voip.com
Matrix Technology (HK) Ltd 成立於2008年, 是一家為香港企業 提供 IP電話通訊方案, VPN 網絡方案, 保安系統方案 及 視像會議方案 的通訊科技方案公司.

多年來, 我們將IP電話的應用方案, 帶進到一些中港企業, 旅行社, 商務中心, 地產公司, 零售商, 中港跨境Call Center, 學校及一些公共機構當中. 我們憑著專業的技術 與 誠懇的服務態度 贏得各界的肯定與信賴. 為了提升客戶服務質素, 我們在深圳成立了 客戶服務及技術支援中心。除此之外,我們亦與世界各地的VOIP系統顧問公司成為合作夥伴,從而為客戶提供國際性的IP電話系統規劃, 為客戶節省了不少時間和成本,並且大大提升了企業營運效率。

Matrix 將在IT 及 IP通訊產品的領域上, 持續創新, 並且繼續為不同的行業開發合適的VOIP應用方案 ,為企業創造貼身,可靠及高效率的營商通訊平台為目標
■ Official 3CX Silver Partner
■ Distributor of Fanvil – Fanvil IP Phone, Fanvil IP Video Phone, Fanvil ATA
■ Distributor of Sipdex – Sipdex SIPDOOR, Sipdex SIP Gateway, Sipdex Heads